Eulogy: Mourning Prof. Tony Buzan, Inventor of Mind Mapping
Professor Tony Buzan is the inventor of mind mapping, the father of world memory, and Mr. Intelligence. He is one of the outstanding thought leaders in the field of human intelligence.
He died of complications after a fall at home, and passed away at 3 am (GMT) on April 13th, 2019.
"Professor Tony Buzan connected the world with the invention of his trailblazing technique, the Mind Map. His work in the field of Human Intelligence was prolific, not only writing over 140 books in over 40 different languages, but in bringing outstanding individuals together from many academic disciplines and is an inspiration to his tens of thousands of students and colleagues around the planet." Raymond Keene OBE commented.
"Tony Buzan spent his life pushing the boundaries of human thought and intelligence, ever inquisitive and ever evolving. From his groundbreaking BBC series "Use your Head" in the 1970s to his latest project collaborating on Mind Maps for Prime Minister of India, Narendra Modi's new book Exam Warriors, his joy in sharing the gift of expanded intelligence was infectious and inspiring."
Although he was an expert in many academic and creative fields, he always explained the most complicated theories in an easy-to-understand manner, which made him admired by students and colleagues.
Mind mapping is the essence of 50 years of practice. While delving into the two disciplines of "learning" and "memory", Professor Tony Buzan revealed many truths about how humans think, remember, create, and develop intelligence. He called it "human language", a true language for thinking applied to all people.
Mind mapping is the presentation of the brain's internal thinking processes on paper. He recently called them "the flowers of wisdom", indicating that mind maps can understand the wonderful talents hidden beneath the surface of our brains and enable the innate intelligence of human beings to sprout and bloom.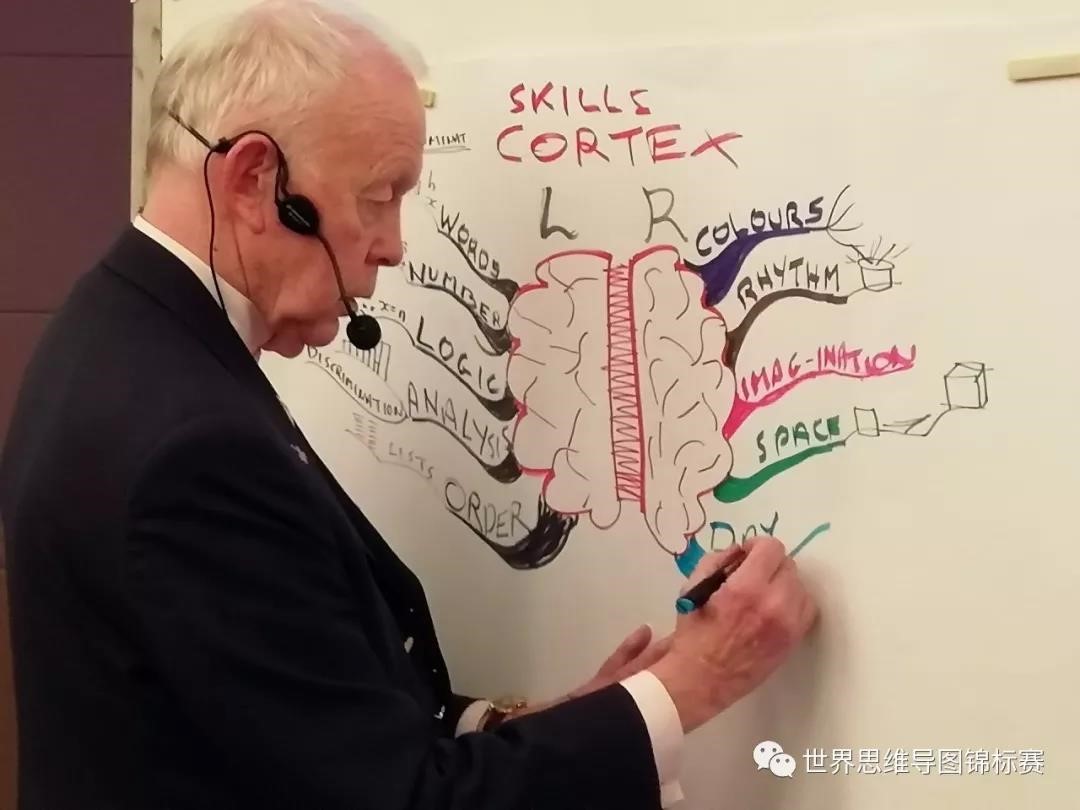 "He took a less than average student, peeled away the layers of self-doubt and lack of confidence, shared the gift of the Mind Map and created an unstoppable thirst inside me for learning for learning's sake. He heard my dreams and gave me the skills to achieve them." Elaine Colliar, the five-time holder of World Mind Mapping Championship said.
The legacy of Professor Tony Buzan will be inherited and prosper by all students he has taught, and the team of lecturers who continue to fulfill his goal of "Global Mental Literacy"worldwide, as well as all the related events (e.g. World Memory Championship and World Mind Mapping and Speed Reading Championships). The World MemoryChampionship he initiated has entered its 28th year and will be held in December 2019 in Wuhan, China. The number of contestants is expected to reach a record high.
Most importantly, Professor Tony Buzan believes that learning and life should be happy and interesting. His greatest pleasure lies in traveling, connecting with colleagues across the world, and planning projects to be explored in the future.
"Tony was such a bright, intelligent, and "one of a kind" person, who embraced and loved almost everyone he met. His ideas have changed the lives of millions of people and will continue to do so for many years into the future. What a wonderful legacy to leave behind. He has inspired us in many different ways and we are so honored and blessed to have had him in our lives." Prince Marek Kasperski said.
The great mind has passed away, but his intelligence will never perish, and his career will be further developed globally.
Professor Tony Buzan's works in the fields of mind mapping, memory skills, speed reading, and creating thinking, as well as other works such as books, articles, art works, pictures, video materials, audio materials, as well as his intellectual property rights related to self-portraits, brand, name, signatures, trademarks, etc. will continue to be managed by his current team and organization. In China, he has commissioned a special legal counsel to handle relevant issues.
Respecting the intellectual property of Professor Tony Buzan is the most meaningful commemoration and tribute to him.
For further inquiries, please send an email to:
Elaine@tonybuzan.com (Outside Asia)
witsbooks3@sina.com (Asia)